Frequently Asked Questions
How soon will my order ship?
Most orders that are received before 2:00pm ET ship the same day.

How soon will my order arrive?
Orders that are shipped from our Cleveland warehouse to locations in the continental United States can take one to five business days, depending on your distance from Cleveland, for UPS delivery. You can expedite your order by selecting UPS Next Day Air, 2nd Day Air, or 3 Day Select. Orders that are drop-shipped from a manufacturer may have a different shipping schedule; we'll let you know if your order is coming directly from the manufacturer. Orders shipped outside of the United States, will be sent through the Post Office and will have a $10.00 fee added to your order. Transit times are estimates and are not guaranteed. All carriers are experiencing delays, so orders could take upwards of twice as long to arrive than previously experienced. International shipments can take up to 8 weeks to arrive.

Can I track my order?
We use the e-mail address you provide to send you a notification with the tracking information the day your order ships. Your tracking information will include the number of packages in your shipment and an estimated delivery date.

Is there a minimum order?
Yes, we have a minimum $25 order policy, not including freight.

How are my shipping fees determined?
You will be charged the actual freight charges, plus a $4 handling fee per box. Orders shipped by LTL carrier will be charged actual freight charges, plus a $45 crating fee per skid/pallet.

How can I pay for my order?
We accept PayPal Express as well as American Express, Discover, MasterCard & VISA.

Can I return my item?
All stock items may be returned for credit within 60 days of the date of invoice, minus a minimum 15 percent restocking fee. Special-order items cannot be returned for credit. Before returning any item, you must contact Pat to request an authorization for the return. Failure to do so can delay the issuance of your credit.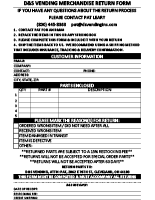 Please include this form with your returned items.


What do I do if my package arrives damaged?
If box has noticable damage, refuse the shipment and do not sign for it. If the box did not appear damaged but the items inside are broken, please contact us for instructions. Do not throw the box or any of the packaging away.

Holiday Shipping Guide
Date

Holiday

Hours

USPS

UPS

Monday, January 2nd, 2023
New Year's Day (observed)

Closed

-

-
Monday, January 16th, 2023
MLK Day
Open

No

Yes
Monday, February 20, 2023
President's Day
Open

No

Yes
Monday, May 29th, 2023
Memorial Day

Closed

-
-
Monday, June 19th, 2023

Juneteenth National Independence Day (observed)

Open

No

Yes
Tuesday, July 4th, 2023
Independence Day

Closed

-
-
Monday, September 4th 2023
Labor Day

Closed

Monday, October 9th, 2023
Columbus Day
Open

No

Yes
Saturday, November 11th, 2023
Veterans Day

Closed

-
-
Thursday, November 23rd, 2023
Thanksgiving

Closed

-
-
Friday, November 24th, 2023
Black Friday

Closed

-
-
Friday, December 22nd, 2023
Christmas Eve (observed)

Closed

-
-
Monday, December 25th, 2023
Christmas Day

Closed

-
-
Monday, January 1st, 2024
New Year's Day

Closed

-
-
Legal:
Although we update prices daily, because we have so many products sometimes receive late notice from our suppliers, prices are subject to change without notice. And while we make every effort to be accurate in our communications, we reserve the right to correct any typographical errors. Pictures are for illustration only and may not represent a specific item. All pictures, copy, and artwork are the exclusive property of D&S Vending, Inc., and cannot be reproduced in whole or in part withour prior written consent. Regardless of how they are categorized, parts may be able to be used on multiple models of machines. In addition, not all models of machines use the same parts, so please use a part number if possible, when ordering. Our website offers numerous parts and service manuals for your convenience. D&S Vending, Inc., shall not be liable for any injury, loss, or damage, whether direct or indirect, arising out of the use or misuse of any parts or products we sell.