OptConnect
OptConnect mylo
A dual-carrier router on the CAT M1 Network
Utilizing the latest cellular technology, the mylo was built to connect hardware to the cellular network by way of the 5G, Cat-M network.
Cat-M not only touts connection spans up to 7x further than Cat-1/3 networks. It also operates on a lower, more penetrative frequency.
The mylo is ideal for hardware that requires low-data consumption, yet needs that dependable, consistent connection.
The mylo is also dual-sim compatible and operates on both Verizon and AT&T networks. Simply plug the mylo in and allow it to determine the best carrier network to connect to. On the off chance the connection drops, the mylo's self-healing logic will cause the router to automatically re-establish a connection on the other carriers' network.
Just another feature that keeps your hardware online and connected.
A 24 month service agreement with OptConnect required with purchase.
Used in: ATM, POS, Vending, Sensors, etc.
---
OptConnect solo
Headache-Free connectivity for your IoT & M2M applications.
Whatever your transaction processing hardware may be, the solo will keep it connected. Operating on the Cat-1 LTE network, the solo fits nicely in hardware where the fastest speeds aren't mandatory, yet a dependable connection to a network is.
The solo has a "Magnetic Personality", as it's equipped with magnetic stand-off's for easy installation. Simply place the solo against any ferrous metal surface virtually anywhere inside the hardware it is connecting and it will stay put.
A 24 month service agreement with OptConnect required with purchase.
Used in: ATM, Kiosk, Vending, POS, Sensors, etc
---
OptConnect neo
Headache-Free connectivity for your IoT & M2M applications.
When space is of the essence and a fast, dependable, yet mobile connection to a cellular network is required, the neo checks all the boxes. With its compact size, the neo fits perfectly within confined tight spaces.
Comparable in size to a deck of cards, the neo shows its power in its ability to route traffic at fast speeds as it operates on the Cat-3 LTE network.
Each neo comes with a built-in connection monitoring software that not only recognizes when a cellular connection is lost but it also triggers a series of events which cause the router to "self-heal" it's connection, saving you time and money.
The neo offers full routing capabilities in one small, robust package and is found in many industries.
A 24 month service agreement with OptConnect required with purchase.
Used in: DVR, Kiosk, Vending, Digital Signate, Medical, etc.
---
---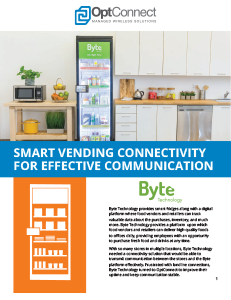 Byte Tech Case Study
With so many stores in multiple locations, Byte Technology needed a connectivity solution that would be able to transmit communication between the stores and the Byte platform effectively. Frustrated with landline connections, Byte Technology turned to OptConnect to improve their uptime and keep communication stable
Click image to learn more.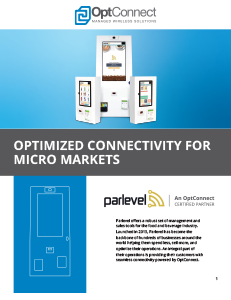 Parlevel Case Study
Parlevel offers a robust set of management and sales tools for the food and beverage industry. Launched in 2013, Parlevel has become the backbone of hundreds of businesses around the world helping them spend less, sell more, and optimize their operations. An integral part of their operations is providing their customers with seamless connectivity powered by OptConnect.
Click image to learn more.
---

Secure Connectivity
OptConnect offers the same reliable and secure connection, traditionally achieved with landlines, using revolutionary wireless technology.

24 Hour Support
Our team is always there to help. Watch instructional videos, download guides, or give us a call.

Simple Installation
Wireless connectivity allows for same-day device deployment, whereas installation of a landline-dependent device can encounter delays and added costs.

Lifetime Warranty
OptConnect offers a lifetime warranty with advance overnight replacement in the rare event of equipment failure.
Related Products