DS961 - NAYAX/InOne VPOS TOUCH Credit Card Cashless Payment Kit
NAYAX/InOne VPOS TOUCH Credit Card Cashless Payment Kit. Not everyone carries cash and Nayax makes every effort to ensure you don't miss out on a sale with its cashless payments card reader. The VPOS Touch offers contactless payment solutions and accepts every payment method on the market so that no potential consumer is turned away. Voice interaction, in local language and multi-language display capability. Monitors machines in real-time with continuously updated information on all aspects of operation. Inventory, cash monitoring, alerts and reports are all available. External communication- GSM/GPRS/CDMA/Ethernet/Wifi, and runs wireless on the Verizon 4G network. Price includes activation fee.
Debit and credit cards

Swipe, contact or contactless, EMV chip cards

Mobile & NFC payments

Google Pay, Samsung Pay, Apple Pay

Interac, Swish, Twint, Paytm, MobilePay

Monyx Wallet – Nayax's own mobile payment app

Prepaid cards and closed environments




Static and dynamic QR codes, including Alipay and WeChat Pay
*Monthly cashless fee of only $7.95 which the customer will pay to InOne on a monthly basis.*
*Credit card processing fee per transaction is 5.95% to the credit card company for sale*
**THIS ONLY WILL WORK IN THE UNITED STATES!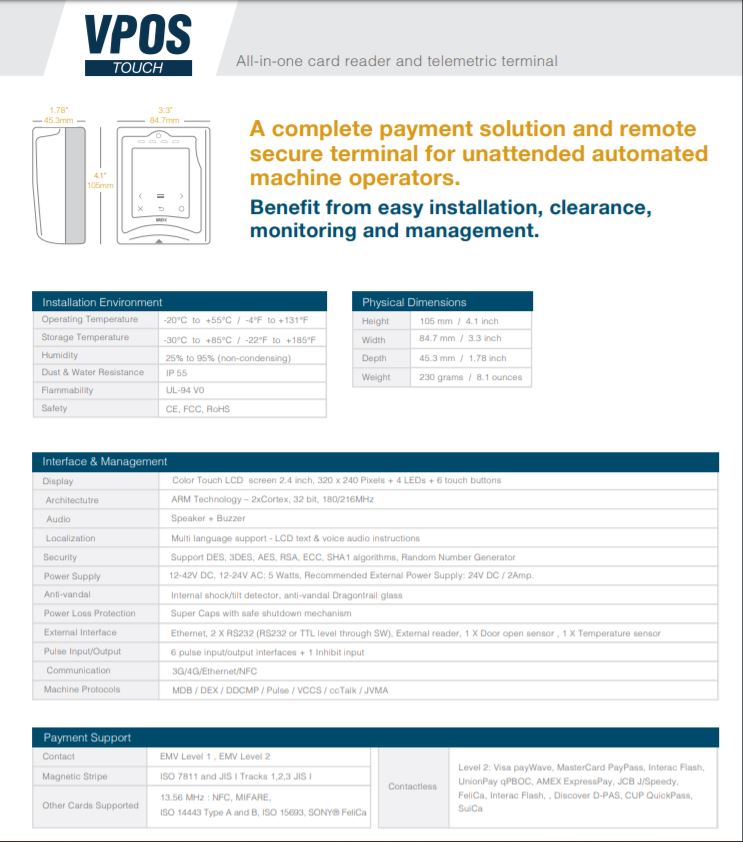 ---
Customer Reviews