Shipping Information
Most orders received by 2:00pm EST are shipped out the same day. Your order will be shipped via UPS and will arrive within 1-5 business days depending where you are in the country. Your order can be expedited, at your expense, to UPS Next Day Air, 2nd Day Air, or 3 Day Select. There is a $4 handling fee per box on order shiped UPS & $6 on orders shipped USPS. (Failure to notify D & S Vending, Inc. of a change in shipping address prior to shipping will result in additional charges). USPS Priority Mail Orders may take up to three days depending on your location, even if your order states two days. Saturday does count as one day, unlike UPS. Shipping charges on internet orders are estimates and are subject to adjustments on final billing. We reserve the right to change the shipping method to ensure a reasonable rate. Orders shipped outside of the United States, will be sent through the Post Office and will have a $10.00 fee added to your order.

Transit times are estimates and are not guaranteed. All carriers are experiencing delays, so orders could take twice as long to arrive as previously experienced. International shipments can take up to 8 weeks to arrive.

Holiday Shipping
Date

Holiday

Hours

USPS

UPS

Saturday, January 1st, 2022

New Year's Day

Closed

-

-

Monday, January 17th, 2022

MLK Day

Open

No

Yes

Monday, February 21st, 2022

President's Day

Ope

n

No

Yes

Monday, May 30th, 2022

Memorial Day

Closed

-

-

Monday, June 20th, 2022

Juneteenth National Independence Day (observed)

Ope

n

No

Yes

Monday, July 4th, 2022

Independence Day

Closed

-

-

Monday, September 5th 2022

Labor Day

Closed

Monday, October 10th, 2022
Columbus Day

O

pen

No

Yes

Friday, November 11th, 2022
Veterans Day

O

pen

No

Yes

Thursday, November 24th, 2022
Thanksgiving

Closed

-

-

Friday, November 25th, 2022
Black Friday

Closed

-

-

Friday, December 23rd, 2022
Christmas Eve (observed)

Closed

-
-
Monday, December 26th, 2022
Christmas Day (observed)

Closed

-

-

Monday, January 2nd, 2023

New Year's Day (observed)

Closed

-

-
Return Policy
All stock items may be returned for credit within 60 days of the date of invoice, minus a minimum 15 percent restocking fee. Special-order items cannot be returned for credit. Before returning any item, you must contact Pat to request an authorization for the return. Failure to do so can delay the issuance of your credit. No returns will be credited after 60 days from date of invoice.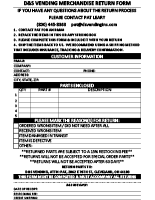 Please include this form with your returned items.
All machine/equipment sales are considered to be Special Orders. Deposits on Special Orders are non-refundable.
We Gladly Accept